ADVOKATJOBB:

Director - Competition and State Aid Directorate - Job Reference 12/2021
Deadline for applications: midnight CET 31 August 2021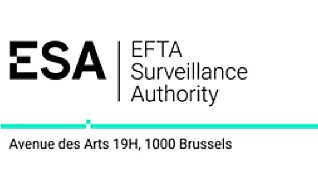 The EFTA Surveillance Authority (ESA) monitors compliance with the Agreement on the European Economic Area (EEA Agreement) in Iceland, Liechtenstein and Norway, enabling those States to participate in the Internal Market of the European Union.
ESA is an international organisation, independent of the States, which safeguards the rights of individuals and undertakings under the EEA Agreement, ensuring free movement, fair competition and control of state aid. ESA's work helps remove barriers to trade and open up new opportunities to over 450 million Europeans, creating jobs and growth and adding to the international competitiveness of the States.
ESA is based in Brussels. It currently employs staff members of 19 nationalities. ESA is led by a College consisting of three Members, each appointed for a period of four years by the three participating EFTA States.


Deadline for applications: midnight CET 31 August 2021


ESA is recruiting a Director to lead its Competition and State Aid Directorate (CSA).
CSA is a multi-disciplinary team comprised of lawyers and economists, and enforces the competition rules of the EEA Agreement, including notably the state aid rules. The EEA competition rules largely mirror EU competition rules, both with regard to antitrust and state aid control. ESA's enforcement powers largely correspond to those of the European Commission. In state aid control, Norwegian cases dominate CSA's work, with Iceland and Liechtenstein granting little aid overall. CSA carries out both ex ante and ex post controls of state aid, through notifications, complaints and monitoring, etc. Also in the field of competition, most of CSA's work concerns Norway (Norwegian markets and companies), and the work is focused on antitrust, without merger notifications and historically with a focus on abuse cases. Finally, CSA also has a role in ex ante regulation under the electronic communications (eCom) regulatory framework in Iceland, Liechtenstein and Norway.
We are looking for someone with a strong background in state aid law specifically, and competition law more generally (especially antitrust), who will lead a large multi-disciplinary team and provide legal and strategic advice to ESA's College on all state aid and competition matters. The successful candidate will manage the work of the Directorate, ensure effective co-operation between departments in ESA, with relevant national authorities, and with DG Competition of the European Commission.
The Director is supported by two Deputy Directors, one for state aid and one for competition (antitrust and other issues) and has overall responsibility for the management of over 20 staff members.
The Director is designated by ESA to manage the affairs of the Directorate in accordance with the instructions of the College and governing documents. A particular focus in the coming years will be the twin transition to a green and digital economy.
The following are essential:
University degree in law
Minimum 10-15 years' broad relevant experience in a position of responsibility in the public or private sector
Excellent knowledge and experience in the field of competition law, in particular state aid, and the legal framework of the European Union and the European Economic Area
Good understanding and knowledge of the Norwegian legal order, including its interaction with EEA law
Excellent interpersonal skills and the ability to build and maintain a broad network of external contacts
The ability to lead a large, multidisciplinary team of international staff
Proven capacity to drive cases forward and define clear priorities
Capacity and willingness to take a stand and formulate concrete recommendations on complex legal issues
Strong communication skills both internally within the organisation and externally with stakeholders
Excellent oral and written command of English (the working language of ESA)
Ability to successfully undergo security clearance procedures
The following would be advantageous:
Postgraduate degree in law or economics
Good understanding and knowledge of the Icelandic and/or Liechtenstein legal order, including their interaction with EEA law
Working knowledge of an EEA EFTA language (Norwegian, Icelandic or German)
Conditions:
This position will be filled in accordance with ESA's policy on Recruitment Policy available at: https://jobs.eftasurv.int. Former ESA staff members are eligible to apply provided the closing date is at least three years after their departure date. In exceptional circumstances, this requirement may be waived. The three-year requirement does not apply in the case of applications from current or former ESA temporary staff, trainees and seconded national experts. Current and former EFTA Secretariat and EFTA Court staff may apply for positions in ESA at any time.
The position is placed at grade A6 of ESA's salary scale, the precise step being determined depending on the relevant experience of the successful candidate, with a likely starting salary of between €130 000 and €150 000 gross per annum. Depending on personal situation and family status, additional allowances and benefits may apply. Tax conditions are favourable.
Type and duration of appointment: fixed-term contract of three years, renewable for a further three years if desirable and in the interest of ESA. Candidates must be nationals of the States party to the EEA Agreement (EU + EEA EFTA) at the point of application and the time of any offer being made.
ESA actively seeks to promote a healthy work/life balance and a working environment allowing its staff members to develop their professional skills and interests.
Application process:
All applications must be made online at: https://jobs.eftasurv.int
Deadline for applications: midnight CET 31 August 2021
First round interviews: September 2021
Start date: May/June 2022
Applications submitted in response to this vacancy notice may also be taken into account for the purpose of filling other vacancies arising for similar positions within ESA.
Questions regarding the post may be addressed to Bente Angell-Hansen, President on +32 2 286 1820 / bah[at]eftasurv[dot]int.
Questions regarding the recruitment process may be addressed to Kathryn Bryan, Head of HR on +32 2 286 1832 / kbr[at]eftasurv[dot]int.